About the Book

How can we expect a child to do anything other than what an abuser coerces them into doing? How can we expect a child to reveal their secret when they have been told not to by someone they typically trust? We can't, unless we act pre-emptively and provide them with the knowledge of what is unacceptable behaviour on the part of an adult and, sometimes, older children. We need to start talking to our children about abuse and the keeping of secrets as early in their lives as possible.
This little book is the single most effective tool we can use to empower our children. This we do by providing them with essential information through direct but non-intimidating conversation. How do we start this sensitive conversation? By means of this story book which will capture a child's attention through its colourful illustrations and a fun game. At the same time, the story of friendship, combined with constant reassurance, keeps them engaged and encourages them to ask questions. This opens the door to further conversations, enabling you the adult, to give them the tools they need to protect themselves when you cannot.
Read this book over and over to a child. You will see how their questions will evolve, in their own way and in their own time. The conversation has started, all you have to do is continue Talking About It!

About the Illustrator - Frankie Post
I have had the honour and privilege of working with Frankie, one of the most talented and committed artists I have met. Frankie brought passion and understanding to this project,along with her attention to details she was able to bring the words of this book to life through her illustrations. Therfore making this book stand out above the rest.
Should anyone be looking for an artist whether it is for book illustrations or realistic drawings of animals or people, I would definitely recommend taking a look at Frankie's web site to see some of her other work. To get in touch with her personally contact Frankie at frankie@smokingunstudios.com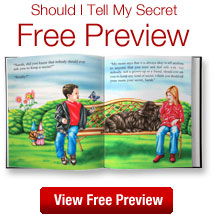 "Brilliantly written and illustrated—Collette has done an amazing job of providing a tool for parents to discuss a topic which for many is taboo. As a father I had never talked with my kids about this subject and this book gave me the forum to begin that process. I will definitely recommend this book to my clients who are parents or caregivers. Empowering!"

Gary J. Rein

Life coach for Jack Canfield