The Author's Story

I am the younger of two girls, born and raised in Edmonton, Alberta. I am also a survivor of sexual abuse. From the ages of 7 years through 10, I was abused by a family member. He was someone I trusted because he was someone I was told to trust—it was as simple as that! I was convinced (or should I say threatened?) by my abuser into keeping this dirty little secret to myself in the same way as the little girl in my book, Should I Tell My Secret?
During and after the abuse, for as long as I kept my secret to myself, I was very angry, distant and confused. I searched for attention in all the wrong ways. I suffered terrible nightmares and feared constantly that others would discover my shameful secret and learn what a terrible person I was. Eventually I was sent for counselling because of my behaviour, and it was at this point that I revealed my secret for the first time. By law the therapist was obligated to report what she had learned to the authorities. From that day on I was no longer the keeper of my secret, or so I thought. Within a short time everyone was made aware of the allegations, and I was angrily confronted by outraged family members. I was 12 years old...
I could not provide any specific dates or times for the events, I could only describe how I would try to hide by squishing my tiny body in between the base of the toilet and the wall, or how I would try to fit into the clothes hamper and pray he would not find me. I could only explain in detail what my abuser had continually done to me, what was on the TV at the time because I could hear it, what wallpaper we had on the walls because I was staring at it, what carpet we had on the floor because I was lying on it, and what dog we had because I would cling to her every time it was over. As a result, there was never a conviction. Not knowing what else to do, I did the only thing I could: I shut down, not to open up again for years to come. I learned very quickly to not trust, and to not let anyone in. I controlled every emotion I felt, and then felt them only in private. I now knew what my body was good for—what I thought it was good for—and allowed others to use it in the same way that it had been used before. My family would never talk to me about this again, and they all tried to pretend that nothing had happened, yet I could not avoid seeing how they stared at me and talked about me in hushed tones at family functions. By this point I was wishing I had never said anything: everything that my abuser had told me would happen had now come true. In my mind, no one believed me, everyone was mad at me, and I had lost the one relationship that I cherished most of all, the one with my father. Our relationship went from inseparable to distant at best. From this point on I became the keeper of my secret once more. I wish I could have known the truth: nobody including my father knew what to do, what to say, and they felt guilty for what I had endured. I wish someone, anyone, had just honestly looked me in the eye and said, "It's okay, let's Talk About It".
I met my first husband when I was in grade 12; we were married and divorced by the time I was 26 years old. During this time I received my training in cosmetology and started working as a hair stylist. This occupation would allow me to hear many life stories, often about abuse. I believe I can safely say that over all the years of working as a stylist I had learned that, on average, more people have been affected, directly or indirectly, by abuse than not, and 7 out of 10 people had never talked about it. My marriage ended for a number of reasons, but for my part, it was because I was still keeping everything about my past life, and in my current life, a secret: my hopes, my dreams, my fears. I had no idea what love was, and did not know how to, nor did I want to, let anyone in where they could hurt me. My life had spiralled out of control, all because of a secret that had repressed and crippled me from the age of 7 until 27. It was not until a year after my divorce that I walked into a therapist's office and said: "if you do not help me, I will be dead within a year." Finally, after some 20 years, I began to heal.
So how did I end up here, going from hair stylist to author? When I met my current husband, I knew that I had no option but to Talk About It if I was to avoid another failed relationship. I revealed my entire past to him, and he chose to stand by my side. Together we had three beautiful children, two boys and a girl. It was after the birth of my daughter that I was struck all over again by my past. I had to protect this beautiful little girl of mine, safeguard her from suffering the same silent torture that I and so many others have endured. Here I was, a survivor of abuse who had by now shared my secret with so many others in order to aid and educate, yet I had never explained or discussed abuse and the keeping of secrets with my own children. How could I protect them from something that they knew nothing about? I knew I could not be with them 24/7, so what could I do as a vigilant parent? How could I empower my children in the way I had needed to be, but was not, so many years ago without scaring them. We had to Talk About It!
I starting telling little stories to my children, and noticed how they responded to certain ones. Sometimes they just wanted more information: the whys, the whats, the whens, the hows. That is when I realized how I could put my experience to use and empower children, both my own and others; how I could take something so negative and make it a true positive. I could stop the silence and help others Talk About It before something devastating occurred instead of afterwards. That is when my writing began, and because of my children and your children, my writing will continue. I truly believe that even if we cannot totally prevent child sexual abuse, we can at least uncover and shorten its duration, and we can stop the silence, one story, one conversation, and one child at a time.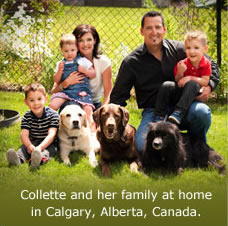 "Collette Sinnott has transformed the negative into a positive by publishing this book.  As a grandparent and children's advocate, I welcome this clear, strong message and believe it will be a good tool for adults and children to begin a necessary dialogue."

Carolyn Pogue

Author of Gwen and After the Beginning