Talk about it.

"Collette writes with the wisdom of experience and the passion of a mother. Should I Tell My Secret will provide parents with a tool to support children in finding safe people to share their secrets with."

Dr. Carolyn Anderson - Therapist, Associate Professor Mount Royal University
Welcome!
Abuse thrives in silence The purpose of this book is to help start the communication process between you, the parent(s) and your children in a way that is both encouraging and non-threatening. Read More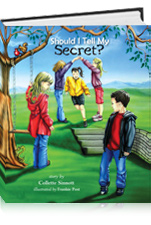 Endorsed By
Little Warriors
Darkness to Light

Connect in the Community.
We have the ability, opportunity and duty to empower our children. We do this by giving them the necessary information and education. We can accomplish this by simply planting the seeds of that information early.
So go ahead, it is never too early, or too late, to Talk About It.